"A standout stock needs both a sound growth record in the recent years and a strong current earnings record in the last several quarters. It's the powerful combination of these two critical factors, rather than one or the other, that creates a super stock, or at least one that has a higher chance for true success." – William J. O'Neil, MarketSmith Founder
For an investor, having the right approach toward choosing a stock is the key to making sound investments. Identifying leaders in a market uptrend and timing the purchases at the right entry point or a breakout will be an ideal strategy. Here are the three basic steps that come handy while taking new positions.
Step 1: Fundamentals are the key measures to assess a stock's growth. Fundamental strength fuels the rally of a stock. Investors should pay special attention to the company's top-line and bottom-line growth trends. Focusing on the return on equity and profit margins will also give a fair picture of the company's performance. Investors can gauge the appropriate use of shareholder's equity by looking at the fundamentals. These stocks would ideally be those that meet the CAN SLIM attributes such as strong earnings and sales growth, growing institutional sponsorships, and the rising demand for the stock. Consistency in maintaining the fundamental strength adds to the shareholders' value.
It's advisable to prepare and keep updating a watch list of the stocks that meet the above criteria.
Step 2: Market direction is a torchbearer for any stock market. Through our research, it was observed that three out of four stocks follow the industry movement, and widely, the overall market movement as well. It is observed that during a market correction, most stocks consolidate and form bases. Here, the stock movement is restricted to its resistance level. Similarly, during a market rally, a lot of good quality stocks break resistance to reach new highs. Therefore, considering the market movement is the next important step in timing a new investment.
At times when the market shows a strong rally, as an investor, you don't want to sit back and look at the equities compound. The market strength is the primary green signal to make any new investment in a stock market.
Step 3: To participate in the market rally, apart from identifying good quality stocks and knowing the market direction, it is also important to exercise purchases at the right point to reap optimal returns.
A majority of retail investors base their investments on fundamental strength and tend to ignore the technical viewpoint of a stock. However, timing a purchase through its technical setup adds to the benefit of strong fundamentals.
A buy point is a marker, a timing mechanism. It establishes the level above which a stock is likely to break free of price resistance and cut loose for explosive gains.
The right time to buy any quality stock would be when it breaks out from a sound base pattern such as cup-with-handle, double bottom, or a flat base. On the day a stock breaks out, the trading volume should increase at least 50% above its 50-day average volume.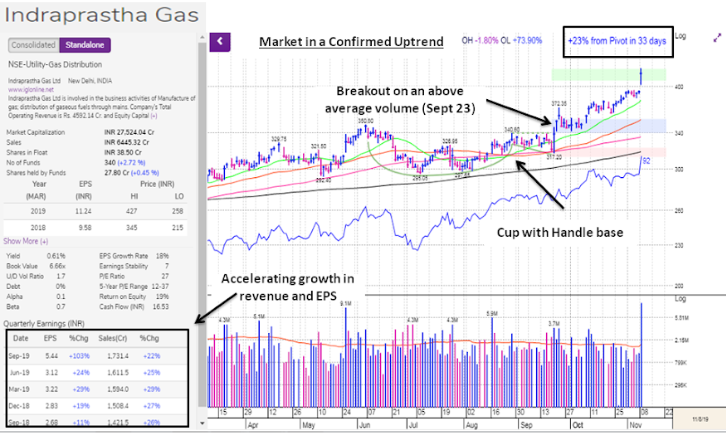 Related: How To Trade Stocks: What Is A Base? And How To Use Stock Charts To Win Big
Read our last week article on 'Why New Highs In Low Volume Can Halt A Big Run'
Disclaimer: Information contained herein is not and should not be construed as an offer, solicitation, or recommendation to buy or sell securities. It is for educational purposes only.
Performance computations reflect a time-weighted rate of return and includes a brokerage of 0.5%. All holdings are rebalanced to equal rupee amounts daily. Dividends are not considered in computations. Percent gains and losses are calculated for all issues that remain on the "Current Holdings" at the end of the day. For stocks that were added to "Current Holdings", the basis used to calculate the percent change is the price noted when the issue appeared as a "Current Holdings" in MarketSmith India. For stocks that were removed, the selling price used to calculate the percent is the price note d when the issue appeared as "Removed" in the MarketSmith India. For more information, see our Legal disclosures here.